Or grew up in Hod Hasharon in a secular Israeli home, with Iraqi and Ashkenazi Jewish traditions. She is a certified Israeli Tour Guide, has a BA in Israel Studies from the University of Haifa, and is completing her MA in Israel Education through the George Washington University and The iCenter. Before moving to the States, Or lived in Jerusalem where she was involved with several social initiatives, focusing on LGBTQ+ life and feminist culture. Prior to joining The iCenter team, Or was the Jewish Agency Israel Fellow to the University of Michigan Hillel. She lives in Ann Arbor with her wife Tilly.
Tell us about your name:
When Tilly and I got married, we merged the Hebrew letters of our previous family names (Vichnizer and Shames) and created a new name with a Hebrew meaning. Shemer (שמר) is the root of lishmor (לשמור) and leshamer (לשמר), to protect and preserve. It is also the Hebrew word for yeast, which adds a meaningful layer of nourishment and growth to our familial identity.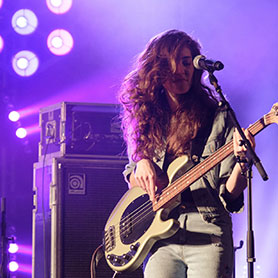 Israeli music captures the mood of a city (i.e., "Tel Aviv," "Yerushalayim Shel Zahav") conveys the national perspective around historical events (i.e., "Yihye Tov"), and celebrates the richness of Israeli arts and culture. These playlists ...
LEARN MORE
Building relationships with people from different backgrounds than one's own is an essential and enriching part of life. Learning from their stories and experiences, and sharing our own, informs how we relate to the world ...
LEARN MORE