ABOUT THE iCENTER
The iCenter envisions a world in which every Jewish child develops a lifelong relationship with Israel.
We are passionate people with dreams, interests, and beliefs. We care about Israel and Israelis. We are educators: rabbis, lay leaders, teachers, students, parents, teens, and youth.
Our work is across North America: in day schools, public high schools, summer camps, synagogues, youth groups, universities, and beyond.
Founded on these passions in 2008, The iCenter strives to transform the professional field of Israel Education. We focus on the learners, helping them develop their identities and build relationships with Israel and Israelis. We also focus on the entire system, creating a dynamic ecosystem of passionate and knowledgeable educators, rich and nuanced content, and institutions centered around their learners. With these two approaches, The iCenter continually moves Israel education to the heart of Jewish life.
OUR VISION
Every Jewish young person develops a lifelong relationship with Israel.
OUR MISSION
To catalyze excellence in the professional field of Israel Education by supporting the development of educators, pioneering new educational approaches, and relentlessly promoting a relational and learner-centered philosophy.
what we do
We pursue our mission through three strategies:
TRAINING & ACADEMIC CREDENTIALS FOR EDUCATORS
CONFERENCES, CONVENINGS, AND PUBLICATIONS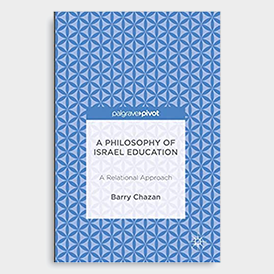 Israel: Voices from Within
A diverse anthology of Israeli poetry designed to help educators delve into the heart of Israel past and present.
OUTSTANDING EDUCATIONAL TOOLS AND MATERIALS
How We Do It
As important as what we do is the way we go about it.
EXCELLENCE
Grounding our work in excellence,
setting bold standards and
challenging assumptions.
LEARNING
Placing learners at the center and
continually striving to be a learning
organization, adapting to the diverse
needs of an ever-growing field.
LEADERSHIP
Leading with innovation,
inspiration, and intelligence.
COLLABORATION
Cultivating wisdom and expertise
with scholars and practitioners
from the Jewish world and beyond.
OUR REACH
We've been fortunate to work with some exceptional partners, including:
OUR INSTITUTIONAL PARTNERS