Dan's experience in relational engagement is rooted in his own teen Israel experience (led by his then-teacher, Anne Lanski). His time as a professional in the field has focused on fostering meaningful relationships and building creative experiences. Dan's background as a stage and television actor and curiosity for educational technology offers a unique perspective on Israel education. With a love for facilitating various experiences, Dan's passion lies in connecting, building relationships within The iCenter's extended family and forging new partnerships. He received certification from SIT in Innovative Strategies and is currently working toward his Master's Degree in Israel Education at The George Washington University. While Dan has run a marathon, he much prefers Ragnar and mud runs. (Personal pronouns: he/him/his)
What is your favorite Hebrew word or phrase?
Chok chinuch chovah chinam (חוק חינוך חובה חינם, "compulsory free education law"). I heard it on the news once and loved the alliteration of the letter chet. I love learning words, exploring sounds, and unpacking roots. I've moved from being afraid to speak if I didn't have everything conjugated correctly to just getting it out and trying. It may not always be right, but I'm connecting and learning in the process.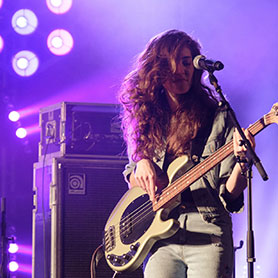 Israeli music captures the mood of a city (i.e., "Tel Aviv," "Yerushalayim Shel Zahav") conveys the national perspective around historical events (i.e., "Yihye Tov"), and celebrates the richness of Israeli arts and culture. These playlists ...
LEARN MORE
The iCenter is proud to be the North American partner of SpaceIL, whose ingenuity and perseverence made Israel the seventh country to get to the Moon, and the fourth country to reach the surface. The spacecraft, ...
LEARN MORE