Carl came to the field of Israel education via his first career in Israeli journalism. During nearly 15 years living in Israel, he reported on some of the biggest—and smallest—stories unfolding in the country. After climbing the ladder at The Jerusalem Post, he served as the paper's Editor before opting to apply the lens of journalism to help North American learners of all ages engage with Israel in multi-faceted ways. When he's not collaborating with his iCenter colleagues to build the field of Israel education, he can be found teaching current events classes and making jam, hosting family and friends, and spending quality time with his grandson.
What's one of your favorite books?
Anything by AB Yehoshua. When I interviewed him in his Haifa writing studio many years ago, I told him I read Hebrew literature in translation, and he said it was time to try the original. He gave me a copy of The Lover, in Hebrew, and inscribed it "In hopes that you'll read it to the end." I did.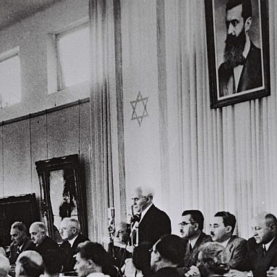 Israel's Declaration of Independence, formally the Declaration of the Establishment of the State of Israel, is a rich document that enables exploration of core values and aspirations of the founders of the Jewish state in 1948. ...
LEARN MORE
WARTIME VOICES: SASHA ARIEV "Everything in this corner of the world has changed since Saturday, October 7. All around us, friends, family, colleagues, people have died. People are missing. People have been kidnapped. There's a ...
LEARN MORE