Carl Schrag is a journalist and educator who formerly served as the Editor of The Jerusalem Post, Carl uses the lens of journalism to encourage learners of all ages to engage with Israel in multi-faceted ways. He teaches weekly current events classes for adults and serves as Program Director of Write On for Israel, a competitive Israel education and advocacy training program for high school students in Chicago.
What's one of your favorite books?
Anything by AB Yehoshua. When I interviewed him in his Haifa writing studio many years ago, I told him I read Hebrew literature in translation, and he said it was time to try the original. He gave me a copy of The Lover, in Hebrew, and inscribed it "In hopes that you'll read it to the end." I did.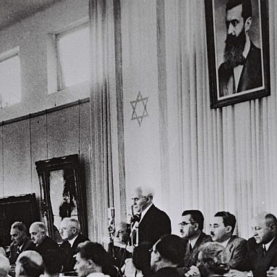 Israel's Declaration of Independence, formally the Declaration of the Establishment of the State of Israel, is a rich document that enables exploration of core values and aspirations of the founders of the Jewish state in 1948. ...
LEARN MORE
The Abraham Accord, brokered by the US in August, promises normalization between Israel and the United Arab Emirates, a country with which many of us may not have been familiar before we heard the news. ...
LEARN MORE