Moshe Lencer was born and raised in Herzliya, Israel, by two olim from Poland and moved to the United States to work for AEΠ in July of 2015. Moshe attended the Interdisciplinary Center Herzliya, where he attained a degree in Government, Diplomacy, and Strategy with a minor in International Affairs and Business Administration.
While working for AEΠ, he continued his education by obtaining his Master's Degree in Jewish Education from Hebrew University and a Masters in Israel experiential education at The George Washington University.
While working on AEΠ's staff, he has created and improved upon the many Jewish programs that the fraternity organizes and implements throughout the year. He has made strides towards increasing Brothers' participation and improving upon the quality of programming. Moshe volunteers for amazing organizations such as Artists 4 Israel, Kahal: Jewish Home Abroad, and the ADL and is the chapter advisor for Hatmadah, a BBYO Chapter in Ann Arbor, MI.
Moshe currently lives in Ann Arbor with his partner Sarah and their dog Khloe.
What is your favorite Hebrew word or phrase?
lefargen (לְפַרְגֵּן)
An informal modern Hebrew term and concept in Israeli culture, which compliments someone or describes genuine, unselfish delight or pride in the other person's accomplishment. Another definition describes firgun as a generosity of spirit and unselfish, empathetic joy that something good has happened, or might happen, to another person.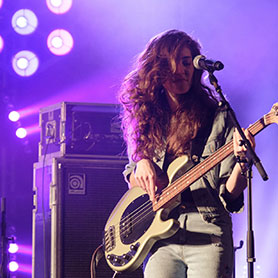 Music can capture a mood, express complex emotions, and make us feel like we are traveling in space and time. It's an essential part of creating an immersive educational experience. We offer both general Israeli ...
LEARN MORE
Hebrew is more than just a language. It's a vibrant and effusive expression of culture, history, and identities. It's also one of the core Aleph Bet principles, and bituyim (ביטויים), Hebrew slang, can deepen our ...
LEARN MORE