Sending out Rosh Hashanah cards is one among many customs associated with the holiday. Whether they are old or new or somewhere in between, the wishes expressed in them, the visual images and the style in which they are depicted, tell a story of hopes and aspirations, and captures the zeitgeist of different periods and generations in Israel. These cards, many of which were designed by well known artists, can be "read" in many ways.
1930S – PIONEERING AND FARMING IN ISRAEL
These Rosh Hashanah greeting cards represent the physical labor of the land; Sheepherding imagery act as a symbol connecting a Biblical past with a historic right to the land and a pioneering spirit of redeeming it.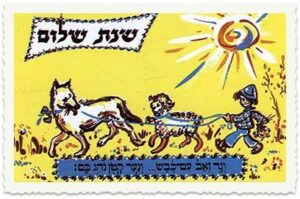 1940S AND 50S – ESTABLISHMENT OF THE STATE
The following cards circulated in the years surrounding founding of the state of Israel. They use strong Zionist imagery and symbolism.
CIRCA 1960S – FROM COLLECTIVE TO INDIVIDUAL: THE INTEGRATION OF PHOTOGRAPHY
Israel moves from a collective identity toward a more individualistic one. Personal portraits emerge. Images of family households become integrated in the design of holiday cards, as well as usage of photography. (The first card in the sequence is the Dizengoff fountain in Tel Aviv).
YEARNING FOR PEACE – ARTIST RUTH SCHLOSS
Throughout time, Rosh Hashanah cards have showcased images and phrases promoting peace in Israel. Here are a few from artist Ruth Schloss. Schloss was born in 1922 in Germany, and made aliyah to Israel when she was 15 years old. She was an active participant in the burgeoning art scene in Israel and helped fashion an Israeli illustration style that was dominant in the first decades of the state. Schloss' paintings have always been an active reaction to the reality surrounding her, which led her towards a daring social-political stance, resolutely adopting a standpoint against social injustice and promoting the quest for peace. She lives in Kfar Shmaryahu.
 'A good year, a year of peace' is the greeting on this 1959 card drawn by Shloss, who arrived in Israel in 1937
The card reads: "Let 5723 be a year of disarmament and stable peace all over the world and in our region. Shana Tovah, Sh'nat Shalom"
From 1963
TODAY – YOUTUBE AND THE VIRAL VIDEO
Take a look at some of the videos that went viral for Rosh Hashanah! Videos have become the new holiday cards.
The Fountainheads – More than 2 million hits
 Rosh Hashanah Rock Anthem – Almost 2 million hits
"Matana Le'Rosh Hashanah,"
A song written by Leah Naor and Mati Kaspi, depicts the small and simple gifts that we can give each other.

We wish you a Shanah Tovah u'Metukah!
אולי יעניין אתכם גם
You Might Also Like
TAGS
תחנות יסוד קשורות בתחום החינוך לישראל
Related Building Blocks of Israel Education