Sending New Year's cards is one among many customs associated with the Rosh Hashanah holiday. Whether they are old or new or somewhere in between, the wishes expressed in them, the visual images and the style in which they are depicted, tell a story of hopes, aspirations, and rejuvenation, and capture the spirit of different periods and generations in Israel. These cards, many of which were designed by well-known artists, can be "read" in many ways.
AS YOU LOOK AT THESE CARDS, CONSIDER:
How do the cards reflect the sentiment of rejuvenation and the hope for a "Shana Tova," a good year ahead?
What stories about Israel do the cards tell?
What images would you put on a Rosh Hashanah card this year?
1930s – PIONEERING AND FARMING IN ISRAEL
These Rosh Hashanah greeting cards represent the physical labor of the land; Shepherding imagery acts as a symbol connecting a Biblical past with a historic right to the land and a pioneering spirit of redeeming it.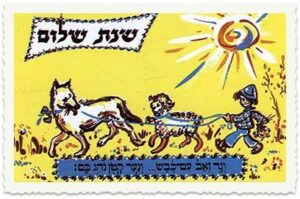 1940s AND 1950s – ESTABLISHMENT OF THE STATE
The following cards circulated in the years surrounding the founding of the State of Israel. They use strong Zionist imagery and symbolism.
Content from Tapuz.co.il and The Givat Haviva Archives
CIRCA 1960s – FROM COLLECTIVE TO INDIVIDUAL: THE INTEGRATION OF PHOTOGRAPHY
As Israel settled into statehood, it moved from a collective identity toward a more individualistic one that is reflected in these cards that begin to feature personal portraits. Images of family households become integrated into the design of holiday cards, as well as the usage of photography. (The first card in the sequence is the Dizengoff fountain in Tel Aviv). 
YEARNING FOR PEACE – ARTIST RUTH SCHLOSS
Throughout time, Rosh Hashanah cards have showcased images and phrases promoting peace in Israel. Here are a few from artist Ruth Schloss. Schloss' paintings feature the artist's active reaction to the reality surrounding her, which led her to embrace a daring social-political stance, resolutely standing against social injustice and for the quest for peace.
"A good year, a year of peace" is the greeting on this 1959 card drawn by Schloss.
The card from 1963 reads: "Let 5723 be a year of disarmament and stable peace all over the world and in our region. Shana Tova, Sh'nat Shalom (a year of peace)."
אולי יעניין אתכם גם
You Might Also Like
TAGS
תחנות יסוד קשורות בתחום החינוך לישראל
Related Building Blocks of Israel Education