Steve's passion is connecting people to the things he loves, and he's been fortunate to spend his career building and marketing them. From alternative and rock music and radio to text messaging and the civic importance of professional fact-based journalism, Steve spent the first part of his career in the for-profit space, primarily leading marketing teams in media and tech. Looking to use his experience and skill set for mission-based organizations, Steve transitioned to the non-profit space and has spent time building Jewish community and community mental health, two areas of personal interest. At The iCenter, Steve leads Marketing and Communications and is thrilled to be involved in an organization dedicated to creating world-class experiential education opportunities that empower, engage, and enlighten learners of all-ages.
What are you happiest doing outside of work?
Is "nothing" an appropriate answer?
An introvert, I'm fine just being. Having plans, making plans, doing stuff is cool, but I don't like being overscheduled. Don't get me wrong, I love to do fun stuff and be around great people, and the people I love, I LOVE. But I don't need a lot of any of it. I'm good. Really.
I'm OK just being … with my family, my dogs, at home, doing "nothing."
Hang out and cook with Israeli farmer and chef, Hedai Offaim, as he hosts some renowned Israeli musicians in his kitchen. Together, we will explore the flavors and soundtrack that makes us who we are. ...
LEARN MORE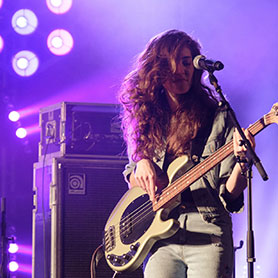 Music can capture a mood, express complex emotions, and make us feel like we are traveling in space and time. It's an essential part of creating an immersive educational experience. We offer both general Israeli ...
LEARN MORE